Properties you might also like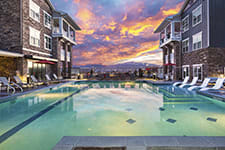 4562 Continental Heights
,
Colorado Springs
,
CO
80924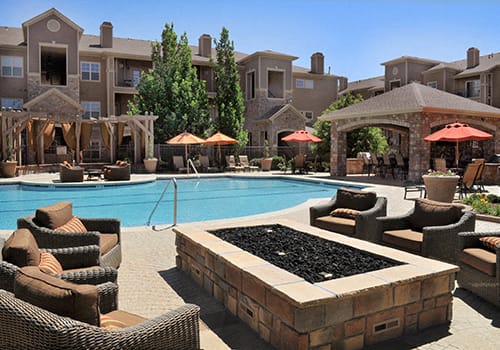 15849 E Jamison Dr
,
Englewood
,
CO
80112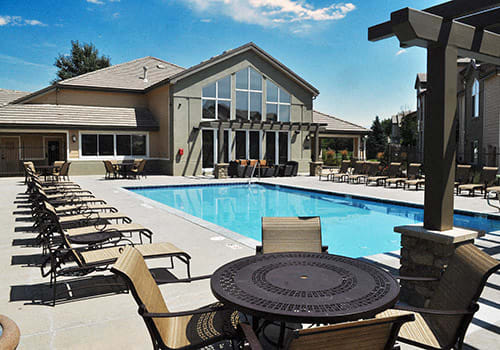 4775 Argonne Street
,
Denver
,
CO
80249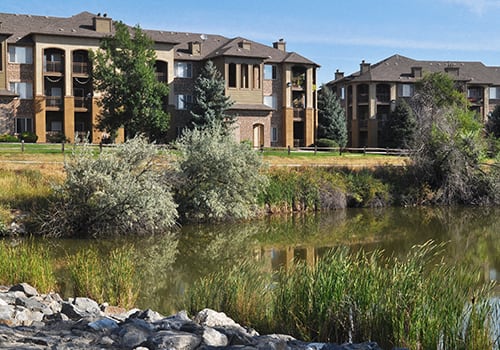 10260 N. Washington Street
,
Thornton
,
CO
80229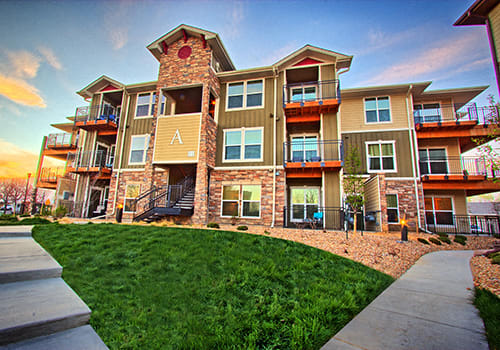 1600 Iron Horse Dr.
,
Longmont
,
CO
80501
Testimonials
Great place. New apartments. Good price for Colorado for what ya get. Beautiful property. Staff is very nice to me. Helps all my concerns. Where else can you get hard wood floors, black appliances, with WiFi services, dog spa, pool, hot tub, beautiful pool layout with grills and a gas bonfire and a dog park?

- John Joseph S., Facebook
We've lived here for a month and so far so good. Great apt. Walls and floors seem well sound proofed. Amenities are always cleaned and stocked. Management has been spectacular.

- Aaron P., Facebook
All of the staff at Overlook has so much pride in the work they do and it shows in everything! From the moment we stepped into the office, we received one-of-a-kind customer service. The grounds are well maintained, they host monthly events that are always fun, and the amenities are top notch (especially the fitness center)! Best of all, its close to the highway and other shops are near. The Overlook is our favorite by far & we look forward to many more years here.

- Resident., Apartment Guide
The staff is fabulous! Very responsive, no matter if it's office or maintenance related. They are professionals who handled inquiries and requests in a courteous and timely fashion. I wanted to mention that the unit inspections were very well handled with ample time and several notifications. Not a problem at all. I was concerned about noise but was pleasantly surprised that it wasn't an issue at all. Great community!

- Gabriele L., Google
I have lived here for a year and one month and I can honestly whole hardheartedly say this place is a wonderful place to live. You won't regret moving here.

- Johnson J., Google
The staff is very helpful, the apartments itself are beautiful and I've never had any issues. Location is perfect. I would highly recommend Overlook Apartments to anyone searching for an apartment.

- Warren F., Google
My experience has been nothing short of wonderful! The staff was very helpful as we moved in and noticed that a shelf in the fridge had been taken out by the previous owner. The item was replaced urgently and all the staff has been so helpful throughout our move-in process. Above the responsive staff, beautiful amenities, and location Overlook has provided the best and most welcoming experience!

- Naimh C., Google
A beautiful, quiet, five-star community located at the top of a hill with breathtaking views of Pikes Peak. Secluded, yet steps away from a vibrant commercial district.

- Resident, Google
The maintenance guys that work here are amazing! They come so fast when I have a work order. They are so personable and so friendly. They always wave and say Hi Sam! I truly think they are awesome guys and appreciate them.

- Sam H.
In all the time I've worked here I've never once had a maintenance request that wasn't completed the same day I submitted it. So grateful for our maintenance team and their hard work!

- Kelsey D.
This is the best apartment complex I've ever lived in. I've been here for four years and the staff is incredibly kind, responsive and genuinely cares about it's tenants. They are always going above and beyond to hold fun events for the residents and put a lot of effort into making sure the property is clean and well maintained. The maintenance crew is amazing, very responsive and always takes care of our needs. Grateful for the whole team!

- Kelsey D., Google
I've lived many places and I can honestly say, I have never lived anywhere that has such a superstar Maintenance team until now. When it comes to the Maintenance gents that keep the apartments in tip top shape, not only do they come out and fix anything wrong in record time, 24 hrs or less, they leave notes behind to tell you what they fixed. They are quick, efficient, and skilled. I trust them to come into my place even when I'm not home to inspect or conduct routine Maintenance.

- Stacey O., Google